LAUNCH FLEET
LOC IV Rocket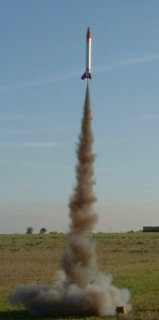 Photograph by Pete Davy
Fuju MX-2700 Digital Camera
LOC IV

The LOC IV rocket, manufactured by LOC Precision, is a 3 wooden finned, 4 inch (101 mm) diameter, 4 feet long rocket, with a plastic ogive nosecone and a 29mm diameter motor mount. The rocket is fairly lightweight, even given its diameter, and it is about as simple as a rocket gets in terms of ease of construction and preparation.
The rocket does not come equipped with a payload bay, but it would not be hard to add a payload bay beneath the nosecone by adding an extra length of airframe tube and a coupler tube and coupler bulkplate, or to modify the nosecone to add a payload bay within the nosecone itself.
Propulsion

With the 29mm diameter motor mount, the LOC IV rocket can be launched on any 29mm diameter solid rocket motor from F-class to H-class (40 Newton seconds to 320 Newton seconds Total Impulse)
Because of its large diameter compared with the motor diameter, the LOC IV rocket is ideal for launches from sites with small launch dimensions, since it provides relatively low altitude, moderate acceleration flights that can enable it to be kept within the confines of smaller launch sites.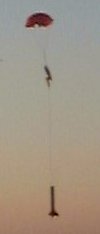 Photograph by Pete Davy
Fuju MX-2700 Digital Camera
Recovery

The LOC IV comes equipped with a 36" diameter LOC Precision parachute and a Nomex flameshield to protect the parachute and recovery harness / shock cord.
The parachute, flameshield and recovery harness / shock cord, are placed into the main rocket airframe tube before flight, and the nosecone is slid into the tube, and that completes the recovery preparation. In keeping with the simplicity described previously, this is a very simple recovery preparation.
Note: Contrary to popular belief, as with many other of my rockets, recovery of this rocket on each of its flights, has been flawless - as evidenced by this photograph!
Table 1: Rocket Specifications

| Feature | Details |
| --- | --- |
| External Diameter | 4.0" |
| Overall Length | 47.5" |
| Motor Mount Diameter | 29mm |
| Number of Fins | 3 |
| Fin Geometry | - |
| Fin Material | - |
| Fin Span | - |
| Recovery System Type | Single stage, Parachute |
| Recovery Dimensions | 36" diameter |
| Recovery Deployment Type | Motor ejection |
| Nosecone Type | Ogive |
| Nosecone Length | - |
| Airframe Length | - |
| Dry (Empty) Mass | 29oz |
| Gross Lift Off Mass | - |
| Minimum Altitude (smallest motor) | 640ft |
| Maximum Altitude (largest motor) | 3400ft |
Where can I buy in the UK?
In order to ensure it is easy for people to know how to easily locate the best High Power Rocketry Suppliers in the UK (and nearby), the individual rocketry pages on this site all detail this information:
Probably the best (and friendliest) High Power Rocketry suppliers in the UK for LOC Precision kits (including the LOC IV), are Rocketstore.co.uk and Rockets and Things (details on the UK Vendors web page on this website). The staff at both Rocketstore.co.uk and at Rockets and Things are experienced rocketeers themselves, and can always draw on their practical rocket launching experience to answer any questions. I say this as a satisfied customer of their kits and components.
For avionics, I can again recommend Rocketstore.co.uk and Rockets and Things, and also Random Solutions - the UK dealer of the G-Wiz range of peak altitude and recording altimeters, and Rebel Rocketry in the Netherlands, all of whom are also exceptionally good (and again very friendly and helpful). Also, for the AED R-DAS flight computer and its modules, it can be ordered direct from the manufacturers (AED) website aswell.
For rocketry tracking with an RF tracking beacon, the favourite, and the unit that recovers rockets time and time again, is the UK manufactured, Traxa RF Tracker, sold via Rocketstore.co.uk, Rockets and Things and online through UK based, Eclipse Engineering. All these suppliers and vendors are detailed on the UK Vendors web page on this website.
See Also
PML AMRAAM 3, PML Patriot, LOC Caliber, LOC IV, PML Phobos, Blitzspear, Hytest, Get Real